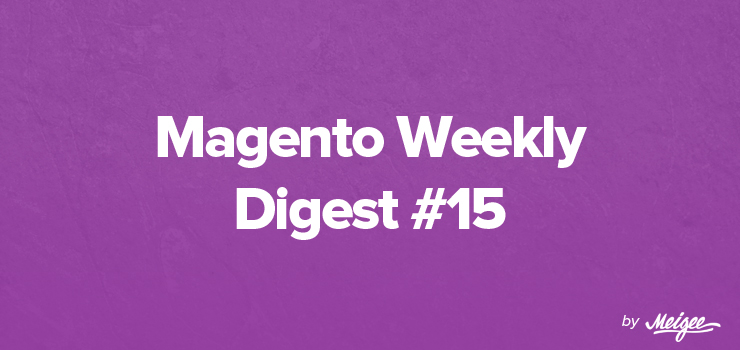 ---
Howdy!
Are you in the mood of picking some fresh news for your weekly roundup? Then you are welcome to our Magento digest that includes recent announcements, articles, tutorials and reviews all around Magento and eCommerce topics.
If you are interested to know how to customize a footer and header templates for Magento emails, which tools help to automate Twitter social activity for successful eCommerce marketing, how to better manage a remote development team or how increase buyers satisfaction with customer-oriented after sale RMA service, this digest has got answers to all these subjects. Go and check out the following highlights:
Developers Paradise – New Record!
Last week Developers Paradise got its revamp after two year break and hold 235 people from 30 different countries spreading over 4 continents.
Top 10 Tips When Launching Magento 2.0 Extensions: Think Carefully About Pricing
Here you'll find the next valuable advice from Magento marketplace team relating to launching Magento 2.0 extensions.
AOE and Fraport Win Award for Best Omnichannel Experience at Magento Imagine
During Imagine conference in Las Vegas AOE has been awarded for the Best Omnichannel Experience for its Frankfurt Airport project.
Enabling Multi-part MIME Emails in Magento
This tutorial explains steps needed for altering Magento transactional emails in order to support Multi-part mime emails.
Customization of Footer and Header Templates for Magento Emails
If you need to add a new header and footer in email templates, in this article you'll find the alternative solution instead of creating a new module.
7 Tools to Better Manage a Remote Development Team
In order to manage the project tasks and organize the workflow of the whole developers team, put into use the following helpful tools which will certainly assist you.
Magento 2: $block and $this are NOT Interchangeable
Here's the new article from Alan Storm that includes some useful information about Magento 2 when working in phml template files.
How Technology Is Changing Travel Retail
In this thought-provoking article, Vlad Farcane shares with his thoughts about the basic changes in the aviation industry, alternative sources of income and retail experience.
How To Increase Buyers Satisfaction With Customer-Oriented After Sale RMA Service
If you would like to improve your online business, you need to know more about what factors can make your e-shoppers happier and how to turn satisfied buyers into more loyal customers.
12 Tools to Automate Twitter for Ecommerce Marketing
With the help of using this automation Twitter tools you will save your time as well as boost your social activity.
Google Tag Manager and Its Role in eCommerce
Get an insight into the first regional conference Hitlt which was dedicated to Google Adwords and Google Analytics.
The Struggle For Ideal Design
This article includes the great overview of what web design stands for mentioning its targets, trends as well as problems' solutions.