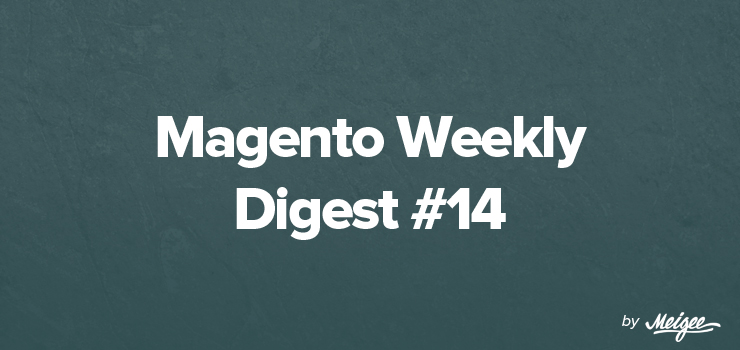 ---
Happy Monday, friends!
The last and the warmest spring month is already here and we hope May will bring to all of us some positive and productive experience while running with Magento.
During the last week we were selecting the most useful and interesting topics that might be helpful for you and for your eCommerce business. Below you'll find different topics related to Magento, content marketing, soft conversions, mobile-ready affiliate programs, web accessibility and much more. Check out the following resources and find out how to squeeze out the full from Magento and grow your eCommerce business.
Third-Party Themes and Extensions Are at Risk
Check out the recent message from Magento team about some vulnerable third-party themes and extensions.
5 Content Marketing Ideas for May
If you are looking for some interesting and engaging marketing concepts and topics for this month, Armando Roggio is ready to share them with you.
Magento – One of the Best Technologies for eCommerce Stores
Find out more awesome features offered by the Magento technology as well as some of the important services which are provided by Magento ecommerce website.
Using Google Analytics to Value Soft Conversions
If you need to increase sales in your online store, take a closer look at Google's URL builder that serves as a handy method of assembling custom tracking URLs.
Top 10 Tips When Launching Magento 2.0 Extensions: Learn About Shared Packages
Find out more detailed information about what functionality gives you Shared Packages on launching Magento 2.0 extensions.
Make an Impressive Ecommerce Footer in Bootstrap
In this tutorial you'll learn how to implement Bootstrap framework while designing the Footer of a website.
Magento 2: More on Setting Area Codes
As always, Alan Storm shares with his thoughts and useful tips while working with Magento.
3 Keys to a Mobile-ready Affiliate Program
Relating to affiliate marketing, this blog entry includes three essential tips to ensure your affiliate program is mobile ready.
Emulating Areas in Magento 2
One more insight from Alan Storm about Emulate Area Code method when setting object in Magento 2.
How to Measure Color Contrast, for Web Accessibility
If you are interested how to increase an online store's accessibility and user friendliness through the design, this helpful article covers the basic principles of color contrast and transparency as well as resources for color contrast testing.
Crafted with Care: How Instagram Bolstered Carved's Mobile Sales
Find out how the founder of a small company is expanding the brand and triggering exponential growth by employing social media methods on Instagram and Snapchat.